7 Gifts For Golfers Under $40
It's that time of year again when you have to get creative and somehow find gifts your friends & family will love. In my efforts to help,  I've found the 7 best gifts for golfers under $40 that won't break the bank! 
Magnetic Rangefinder Case
If you have a range finder then you know how hard it is to keep track of it in the cart. This magnetic rangefinder case is the perfect way to keep your rangefinder in sight and ready to shoot your distance to the pin. 
Tumbler That Fits In The Golf Cart Cup Holder
This Classic Tumbler from Simple Modern comes in several colors and size options and fits into a golf cart cup holder, making it the perfect way to bring your coffee, iced tea, flavored waters (or something a little stronger) out on the course with you! 
Keeping your head and ears warm is a key element to enjoying  your round in the winter. This Daily Sports beanie with floral embroidery will make you a bit more comfy out there. 
Does the phrase"drive for show, putt for dough" resonate with you? Putting is everything and this Puttout Pressure Putt Trainer comes in five colors and folds up nicely for storage. And it rewards you for an accurate putt by pushing the ball back to you. 
You Can't Go Wrong With Golf Gloves
These FootJoy FJ Spectrum golf gloves come in 12 different colors, so why not grab a few for stocking stuffers? I love the dark fuchsia, camp blue and light pink if anyone's shopping for me!
Everyone can use more golf balls, right?  Having personalized balls means not having to mark them with a dot or line, saving you a couple of minutes at the first tee, and giving you more time  for a practice swing and deep breath. 
Throwing Some Shade... On Her Face
I'm one of those people who gets a headache if my visor is on too tight, so I totally appreciate the adjustable coil on this slate gray visor from GloveIt. I have a ton of these in lots of colors and love their durability and look. 
There aren't many shopping days left, so I hope this gets you off to a good start, or at least gets your creative juices flowing form some fun, inexpensive gifts for the golfers in your life. 
What are your favorite little golf tools and accessories?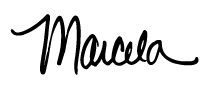 Marcela launched Girlfriends Guide To Golf and her On-Course Rules Experiences to grow the game, help women learn the rules of golf, and feel more confident out on the course.