Getting Advice from Caddies
Rule 10.2b(4) contains new restrictions when getting assistance from caddies.
Have you ever seen an LPGA event on TV where a caddie has stood behind a player to line her up on the tee box so she knows exactly what direction she should be hitting?
Well, that is now a penalty! 
You can no longer have your caddie or partner line you up before you take your stance. This is on the putting green, on the tee, anywhere in the fairway, or anywhere on the course.
The Nitty Gritty
Rule 10.2(4) Restriction on Caddie Standing Behind Player. When a player begins taking a stance for the stroke and until the stroke is made:
The player's caddie must not deliberately stand in a location on or close to an extension of the line of play behind the ball for any reason.
If the player takes a stance in breach of this Rule, he or she cannot avoid penalty by backing away.
Exception – Ball on Putting Green: When the player's ball is on the putting green, there is no penalty under this Rule if the player backs away from the stance and does not begin to take the stance again until after the caddie has moved out of that location.
See Rules 22, 23 and 24 (in forms of play involving partners, a player's partner and the partner's caddie may take the same actions (with the same limitations) as the player's caddie may take under Rules 10.2b(2) and (4)
Check out Rule 11,  Ball In Motion Accidentally Hits a Person or Outside Influence.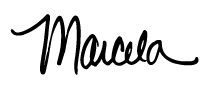 Marcela launched Girlfriends Guide To Golf and her On-Course Rules Experiences to grow the game, help women learn the rules of golf, and feel more confident out on the course.