I always love unboxing new golf outfits, and I'm so excited about these new styles from Daily Sports. Let me break down what's in the box for you. 
If you've seen my Instagram Stories you'd know I love animal print. I don't care if it's cheetah, leopard, zebra or tiger… all are fun to wear and it seems like no matter how many years go by, they are always in style. Here's some pics from a recent golf tournament where my partner Jenn and I wore fun animal prints. 
 Daily Sports is one of those golf brands that makes so much more than just golf clothes. They do what they call "resort" which essentially means just regular life. 
One of the items in my box today is the Scarlet dress which is the same style as one I already have in khaki. I wear the khaki one to run errands,  to a casual dinner, or lunch with girlfriends. I'm in for any colors they make in this style and love the new one in this happy melon color – will be bringing it for my upcoming golf trips to Punta Mita and Hawaii. (I'm so ready for some hotter temps!)
Here's how you can shop all the items I got today. 
And don't forget to use the code MARCELA for 15% off any regularly priced items! 
I also love that Daily Sports makes visors in to match some of their outfits. I love adding that extra little pop to my golf outfits, and these are very sturdy and quite flattering for ladies. 
I'll just continue gushing about Daily here…. one last thing!  I like that they make their staple pieces like the Lyric,  Magic and Miracle shorts, pants and skorts. It's helpful to know what size I wear in certain styles, that way when new colors come in I know exactly how these pieces will fit me. 
I love the Lyric skorts the best because they've got lycra in them but aren't too thick. The standard length is just the right length for me, but they now come in a longer length so you have that option as well. And lots of fun colors! Check them out here.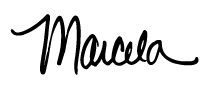 Marcela launched Girlfriends Guide To Golf and her On-Course Rules Experiences to grow the game, help women learn the rules of golf, and feel more confident out on the course.