Using a Club To Take Your Stance
Another big change in 2019 is that using a club to take your stance will earn you a penalty.
According to rule 10.2b you may not take your stance for a stroke using any object that was set down to help you line up or show you the line of play.
This is true anywhere on the course, including the putting green. Watch this video to learn more.
And you can't place it there, line up and then remove it – you'll still incur the General Penalty which is two strokes in Stroke Play and loss of hole in Match Play.
Take a look at page 86 of the new 2019 Rules of Golf Book, it's Rule 10.2b (3)
So many of the new rules were designed to help speed up pace-of-play, which we are all really excited about. Read more about the USGA 2019 Rules and Interpretations.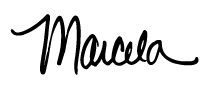 Marcela launched Girlfriends Guide To Golf and her On-Course Rules Experiences to grow the game, help women learn the rules of golf, and feel more confident out on the course.