Brigitte Dunn graduated from SMU last weekend. Then last night her phone rang.
Brigitte played a 36-hole qualifier at Canyon Creek Country Club in Richardson, Texas just three weeks ago. With four birdies in the last five regulation holes, she ended up in a sudden-death playoff as night began to fall. She remembers thinking to herself "I am not coming back here tomorrow morning. I need to get this done". She made a birdie in the dark to earn the first alternate spot.
Brigitte (pronounced the French way) is a multi-sport athlete. She played tennis, soccer and golf at Oaks Christian High School, in Westlake Village, Calif, and ultimately got serious about golf and wanted to play in college. She also surfs, skateboards and snowboards. She earned a spot on the golf team at Southern Methodist University and majored in sports management with an advertising minor. She has a creative side and enjoyed exploring her love for sports coupled with business and creativity at SMU.
Of course, finding a caddie at the last minute isn't easy. Brigitte had a couple of coaches and three good friends in mind to take the bag, and each of them had a very good reason they couldn't spend this week in Charleston. Most of them said, "If I had known earlier I would have been there for you". But of course, there was no way to know she'd get "the call" last night. Brigitte said she wanted someone to help keep her in the right frame of mind, but of course, knowing the course is important. After arriving in Charleston today, she went out to play 9 holes at The Country Club of Charleston and met one of the teaching pros, who has worked there for 19 years, so naturally, he knows it like the back of his hand. He offered to "loop" with her and she quickly knew he was the right person to be on her bag.
Brigitte likes to have a relaxed relationship with her caddie. "I just need someone to hang out with for four hours. I'm not someone who needs to over-analyze shots. I just have to do what I know how to do."
In speaking with Brigitte on the phone today, it was clear that she has a calm demeanor and knows how to focus on her goals. When I asked her about the predicted 95 degree temperatures this week in Charleston, she said that wouldn't bother her, and we both agreed we'd rather play in the heat than the cold.
Learn More About Brigitte And Other Players This Week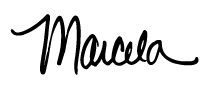 Marcela launched Girlfriends Guide To Golf and her On-Course Rules Experiences to grow the game, help women learn the rules of golf, and feel more confident out on the course.