Today I'm sharing 3 putting green rules you need to know – let's see if you've encountered any of these before. 
Last week my friend Karen and I played a fun Four Ball Match Play round with Andy Proudman and Matt Blacket at our home course, The Santaluz Club.
Matt is a former European Tour Player and Andy Proudman is a PGA teaching pro and co-founder of Me And My Golf.  They obviously know the rules, but I am always on the lookout for issues that come up during a real round of golf. And, to be honest, I kind of like to catch people violating the rules!
In the first situation, Karen and Matt are partners and it's a Four Ball Match Play. Matt is helping read Karen's putt for her and is showing her where to die the ball. 
Is Matt permitted to touch the ground to indicate the line of play for his partner?
The answer lies in rule 10, Advice and Caddies. 10.2b(2) "The player or his caddie may touch the putting green with a hand, foot, or anything he or she is holding to indicate the line of play."
…………………..And remember that a player may help their partner in any way that a caddie can.
So, yes, Matt can touch the putting green and I didn't catch him in a violation.
Can a player set their putter down on the green to line up their putt as Andy appears to be doing in this video?
According to rule 10.2b(2), a player must not set an object down to show the line of play. In this case though, Andy has not set the object down, the putter is still in his hands, so no penalty here.
Here, my partner Andy is standing behind me and reading my putt. Would Andy incur a penalty here?
Rule 10.2b(4) says, "when a player begins taking a stance for the stroke, the player's partner or caddie must not deliberately stand behind in a location on or close to an extension of the line behind the ball for any reason."
The key phrase here is, when a player "begins taking a stance," and as you can see I had not yet begun to take my stance. As long as Andy moves away before I begin to take my stance, there is no penalty.
Oh and P.S., I didn't make the putt!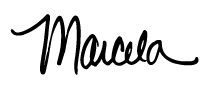 Marcela launched Girlfriends Guide To Golf and her On-Course Rules Experiences to grow the game, help women learn the rules of golf, and feel more confident out on the course.