Many golfers are still getting used to all the changes to the rules of golf that took effect in January 2019, and now we hear that there's another big change—this one to the handicap system. Before you get too stressed, let's review what you need to know about the new World Handicap System.
Have you ever needed to pick up on a hole and not complete it? Maybe your daughter calls with an urgent issue (like which dress to wear to a birthday party) or you need to text your boss about a meeting later that day. There are lots of reasons why you might not complete a hole, and that's just one of the scenarios included in the article I just wrote for the LPGA Women's Network about the World Handicap System.
In the article, I cover some of the basics, which include the definition of some terms like your golf Index. Your Index is a number that indicates your demonstrated ability based on an average of the best 8 of your last 20 scores. It's what you're reasonably capable of scoring on your better days. Your Index is then converted to a Course Handicap, which is based on the course slope and rating of the tees you are playing from.
I also go over Net Double Bogey and the specifics of posting your final score. To read the full article head over to their website.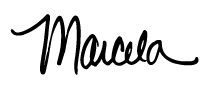 Marcela launched Girlfriends Guide To Golf and her On-Course Rules Experiences to grow the game, help women learn the rules of golf, and feel more confident out on the course.