Kim Harrington, LPGA teaching pro, also known as The Intuitive Golfer, shows us her tips on how to hit out of greenside bunkers. 
In this bunker shot, Kim has a slightly uphill lie, so she will angle her shoulders and hips with the hill.
"The key is to
accelerate
through the shot and get underneath the ball" 
Kim suggests you imagine that you're taking a full swing shot, as fast as you can, while trying to hit down on it. Dig your feet in the sand, focus on the landing spot, and accelerate through with a high finish.
And Kim reminds us to relax, then attack it!
It's always a privilege to play a round of golf with a golf pro. Kim Harrington, LPGA golf instructor, provided me with some valuable tips on how to approach certain situations out on the course. We had fun playing at The Santaluz Club and, of course, watching Kim's amazing swing was quite inspirational for me.
How do you mentally prepare for a shot?
Kim: Right now I am focusing on picking my target and what kind of shot I want to hit. And then after that I just go through my pre-shot routine, and I kind of go blank. I just focus on rehearsing my pre-shot routine and focusing on lining up to my middle target and putting a good swing on it. I like to call this imaginary line my "think box" vs. my "play box." So this is where I think, I pick my shot, I pick my target, and what kind of swing, and then once I cross my imaginary line onto my play box, which is the t-box, I just go through my pre-shot routine and I put that thinking to the side.
Marcela: My pre-shot routine is to think about the lunch I just ordered.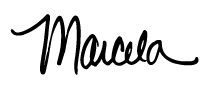 Marcela launched Girlfriends Guide To Golf and her On-Course Rules Experiences to grow the game, help women learn the rules of golf, and feel more confident out on the course.