So often we start out the new year with resolutions —perhaps to lose weight, save money, or learn a new language. If you're a golfer you may have had a resolution to lower your handicap.
I had a very specific goal this year to spend my summer working on achieving a more athletic swing. My husband and I spend our summers in Lake Tahoe, so I had exactly nine weeks to work with my coach up there, and I was on a mission.
I knew if I played regularly this summer I could probably get my handicap down, but was that the most important thing to me? What about improving my actual swing – the way it looks, feels and performs consistently for me at any course?

I took action to achieve my goals...
On July 1st I told Chris Tschirhart, my PGA teaching pro at Lahontan GC, that I was very serious about making some changes to my swing. I wanted, no, I needed to have a more athletic swing that would serve me on my golfing journey. After all, I'm a golf rules blogger and there are videos of my clumsy swing all over Instagram.
SCGA FOREher Publication just published my article about my golf resolution for 2019 (and how I did it!)
Read the full article on their website here.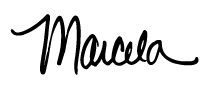 Marcela launched Girlfriends Guide To Golf and her On-Course Rules Experiences to grow the game, help women learn the rules of golf, and feel more confident out on the course.